The Grand Floridian Resort, is one of Disney Worlds most exclusive resorts, so where better to experience a fabulous and never to be forgotten Disney character breakfast from only £51. Your journey begins at a centralised pick up point, where you step into a limousine which in true Disney style, transports you and your party to your destintaion.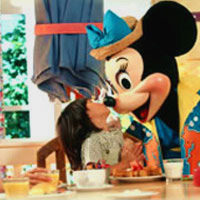 Upon arrival you will be taken to your preferred seating area, within the fantastic Disney Park Fair restaurant located within the Grand Floridian Resort, from here your Disney dining experience truley begins. A sumptuous buffet breakfast complete with non alcoholic beverages is prepared as only Disney can.
However expect to be distracted in the best possible way, as your favourite Disney characters parade and interact with dinners young and old. Sitting in an air conditioned environment with a limited audience allows each dinner to to the best out of their ulitmate disney character breakfast experience.A camera and autograph books are essential accessories to ensure the memory can be relived over and over again. Then when it's time to leave simply jump back into your limo and either return to your villa, go to Disney's Magic Kingdom, or Universal Orlando, it is your choice and fully inclusive in the price. These fantastic Disney character breakfasts are available each Wednesday.