Get the most out of your listing on Direct Villas Florida. Reply quickly and professionally to your enquiries with our easy to use response system.
When a holiday maker submits an enquiry to your property Owner's will receive a NEW ENQUIRY NOTIFICATION by email and the enquiry details are also recorded within your Owner's Area (select 'Edit Property' from your dashboard and then 'Enquiries' in the orange box to the left of the screen.)
At the same time the holidaymaker receives a confirmation from the site, detailing the property or properties they have sent an enquiry too. This confirmation includes links back to the relevant property listing page and also to their Booking Zone. If they have not previously used Direct Villas UK, they will also receive log in details for the Booking Zone.
To respond to the enquiry by email you have 3 options:
1.Reply directly from the enquiry notification email using the interactive blue response buttons or the additional reply links at the bottom of the notification.
2. Reply from within your Owner's Area using the blue response buttons
3. Reply using your own email client. **
** IMPORTANT;  Do not use your 'Reply' button within your email system as this will send  your response to a 'No Reply' address. Read on to find out to use option 3.
Responding with option 3 may be what you've always done in the past but it is not as attractive to the prospective guest of your vacation rental as you may think. More on this below. We highly recommend that you take a good look at using methods 1 or 2, the one click response buttons. They are designed not only to make your life easier, but also to help you secure bookings.
Read on to find out more!
OPTION 1 and 2 – Where do I find the response buttons?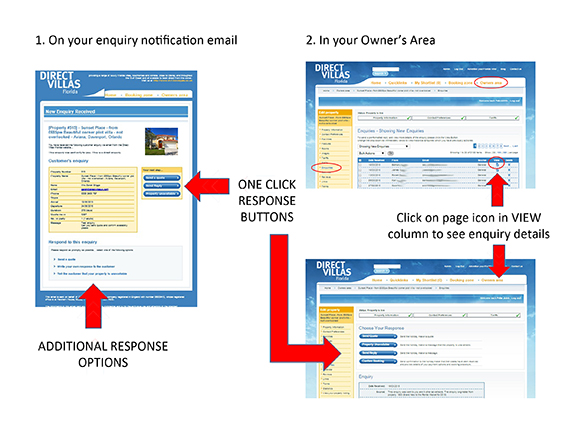 All of these options – Send Quote, Send Reply or Property Unavailable – send a professionally branded email reply, pulling in the details from the original enquiry with the space to add your own personal touch or message to the response. They also include an image of your property and a link back to your own listing page, so if the holiday maker has requested more than one quote they can easily match up your quote to your property.
Why not try a test enquiry yourself and you'll be able to see exactly what a holidaymaker receives?
OPTION 3 – Using your own email software
Whilst the built in response system is a great tool – designed to help make your life easier, Direct Villas will not penalise you in any way should you wish to respond using your personal email software.
To use your own email programme, simply click the text link 'click here to send new email 'contained within the header on the enquiry notification or on the email address link itself.
Alternatively, open a new email and copy and paste the email address shown into your email client.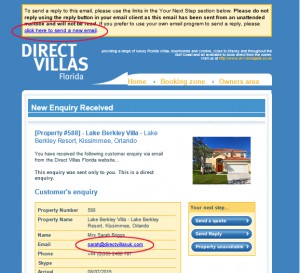 REMEMBER if you wish to use your own email client – DO NOT immediately hit 'reply' in your email browser. Doing so will only forward your reply back to an unattended inbox at Direct Villas UK. (Note that to date, all such emails received by the admin team have been forwarded to the enquirer on your behalf but this may still result in a delay in your response reaching your potential guest.)
It's good to talk!
Of course you do have yet another option to respond to enquiries.
Our telephone contact field is not mandatory, so where an enquirer has supplied a contact number, they may welcome your call. It's a chance to chat about all the best points of your fabulous vacation home, answer any questions or concerns they may have AND confirm with them, there and then what they need to do to secure their requested dates! Even if you've already sent a reply by email that personal follow up can really help seal the deal.
Good luck with those bookings!
The Direct Villas UK team.
Tel +44(0)333 240 0797
Email: Info@Directvillasuk.com
Office hours
9am – 5pm GMT Mon to Friday
Open till – 8pm GMT on Thursday
Direct Villas UK Limited
UK Registered Company Number: 06009413
UK Registered Company Address: Newham House, Dudley Road, Darlington, DL1 4GG