Package tour operators have for many years had the monopoly on family holidays, however in recent years there has been a significant increase in the number of travellers who prefer to book the various elements of their holiday themselves. There are numerous advantages to this, one of the main ones being the savings that can be achieved. The following is example shows just how much can be saved on a independently booked family holiday to Orlando, Florida .
There are three main parts to our holiday, flights, accommodation and car hire. Transatlantic flights are by far the most expensive element, especially in high season or in line with school holidays.
Unlike private holiday homes throughout Europe, renting a private villa/townhome or condo in Orlando by comparison is remarkably cheaper.
Car hire is a must in Orlando, if you are to really get the very most from your holiday. There is no public transport network in operation in Orlando making getting around very difficult and extremely expensive without a hire car, as your only other option is using taxi cabs.
Our price comparison is based on a family of four, two adults & two children aged 8 and 10, flying direct to Orlando International Airport direct from Manchester International Airport in Premium Economy class.
They will stay in a private villa within the fabulous Solana Resort Orlando and will have the use of their very own small family 4 door car for the duration of their holiday.
For the purpose of this article we obtained a fully inclusive quote from Virgin Holidays for a 14 night Orlando holiday arriving 27th July 2015 and departing 10th August 2015. We then sourced the same flights, accommodation and car hire from a variety of websites. As you will see the savings are significant.
The Tour Operator.
Okay, let us start with the Virgin Holiday quote of £9429.98, this is broken down as follows;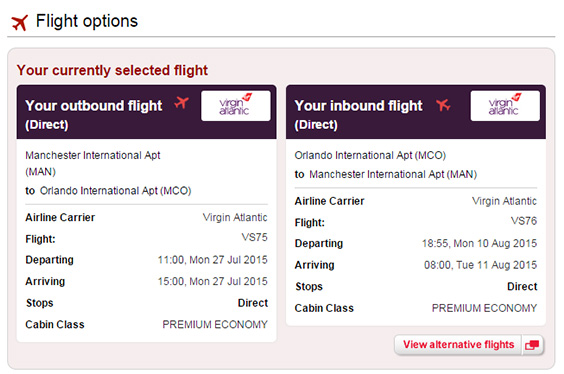 Virgin Holiday Car Hire
Virgin Holiday Car Hire Insurance
The same holiday booked independently £7441.26.
Okay so booking the various elements of your holiday yourself may take a little longer, but not that much more and in this example it would save you over 20%!
Yes that is right the same holiday booked independently by you would save you over 20%, a whopping £1988.72 cheaper than Virgin Holidays. Now that is a lot of spending money.
This is how we did it;
Solana Family Holiday as advertised on Direct Villas Florida is available direct from the owner for £1219.35 (based on an exchange rate of $1.55 / £1). As per the Villa advertised by Virgin Holidays, this property comes complete with everything required to make your holiday in Orlando a very memorable one indeed, including that all important private pool.
Unfortunately the cost of transatlantic flights from the U.K are quiet simply astronomical in comparison to other European countries who have chosen not to inflict additional taxes on airlines. You will no doubt be wondering why we have quoted for premium economy and quiet simply it is due to the fact that Virgin Holidays website at the time of generating the quote, would not provide a cost with economy flights. At the time of writing the cost for a return flight to Orlando from Manchester in economy class for the dates outlined above was £4801.92.
Florida Car Hire Quote
So there we have it, as simple as that really. If you would like a quote for your holiday in Orlando, or if you already  have a quote from a tour operator, give Sarah or Tracy at Direct Villas UK Ltd a call on 0333 240 0797 (local rate), you may be very surprised.
All prices shown in this article where correct and obtained on 29th November 2014.