If this is your first trip to Florida, you might not be familiar with all of the options available to you for your holiday accommodation. If you've ruled out a cramped hotel room and are looking for self-catering facilities then your first thought might be for a private villa or pool home, but before you make your final decision, take a look at the Townhomes listed on Direct Villas Florida.
Townhomes and facilities at Reunion and Windsor Hills Resorts, Orlando.
So what exactly is a Townhome?
The term townhouse or townhome here in the UK perhaps conjures up an image of a row of terraced houses in a city centre although the term is now often used for newly built developments where homes have a small footprint but plenty of space spread over multiple floors.
Historically, a town house was the city residence of a noble or wealthy family, who would own one or more homes in the country in which they lived for much of the year – moving to the townhouse for the balls of the social 'Season'. It is perhaps this second image that gives you more idea of just how much you can expect when you choose a Florida townhome for your vacation.

Townhomes at Regal Oaks, Venetian Bay and Windsor Hills, Orlando.
Typically, Florida townhomes are a terraced row of vacation homes, with their own private entrance and space to front and rear when you want to relax in the sun or dine alfresco. The spacious accommodation is generally spread over two or more floors offering a similar (or greater) level of luxury to many villas at a very competitive price.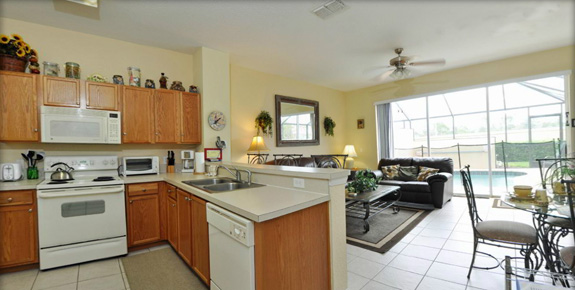 The spacious interior of a townhome at Windsor Hills, Orlando.
You will find some townhomes even offer their own private splash pool to cool down at the end of a hectic day in the parks. Or what about gazing out over the community golf course?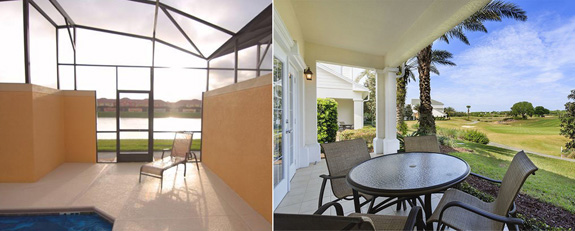 Lake view from private pool, Paradise Palms and Golf Course views from Heritage House, Reunion.
Where can I find these homes?
This is where townhomes really come into their own. You'll find that most are located on resort style communities offering excellent communal facilities within easy travelling distance of the Orlando attractions. Think of it as staying in a luxury hotel complex but with your own private home to give you and your family all the space you need to relax. Your children can make new friends at the pool, with some resorts providing waterslides, lazy rivers and fun pools designed to help keep children of all ages entertained.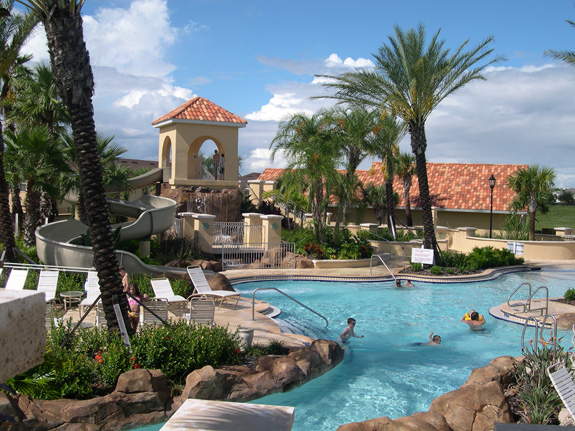 The amazing waterpark facilities at Regal Palms, Orlando.
Work off those extra calories in the gym and enjoy family fun in the games rooms or play areas. Although there are some exceptions, you'll usually find that access to all the resort facilities is free to guests staying in the community.

Sport for all – Windsor Hills games room and gym at Windsor Hills Resort &  Golf course at Venetian Bay  Resort.
And of course, like the townhomes of the nobility, you'll have easy access to your own 'Social Scene'. Swap tips for the next days' activities with new friends at the bar or take a break from self-catering and dine out without having to get back in the car to reach the nearest restaurant.

Tiki Bar and cinema at Paradise Palms, Orlando.
Whether you are looking for a spacious family holiday home, at a great value price or simply love the resort location – you're sure to find a townhome to suit all your holiday needs on www.directvillasflorida.com
A selection of Townhomes in Florida can be found on www.directvillasflorida.com. Use the Quick-link 'Florida Condos and Townhomes' to see all your choices or get in touch if you would like help to find your perfect Florida vacation home.
T. +44 (0)333 2400797   E. info@directvillasuk.com
Own your Townhome in Florida?
Tell us what you love most about your holiday home and why you chose a townhome. Any stories we use in our marketing will win a home page feature on Direct Villas Florida .
If you are looking for more enquiries for your own holiday townhome, contact Sarah or Tracy on +44 (0)333 2400797 to find out more about advertising your own property on Direct Villas Florida.