If you are looking for something a little different during your vacation in Florida, look no further than one of the Sunshine States best live music venues and the home to Tampa Bay Lightning ice hockey team St Pete Times Forum in Tampa.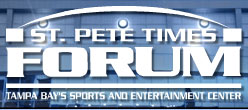 Located within a 90 minute drive from Kissimmee, St Pete Times Forum is an indoor arena which welcomes many of the world's popular and famous artists.In August of this year, and as a change to our usual itinerary whilst on holiday in Orlando, my family and I made the short drive to Tampa, where we where to see one of my wife's favourite solo artists George Michael. Having already bought our tickets, we made our way in good time to the venue. 
Situated in the downtown area close to the riverside, St Pete Times Forum is easy to find and comes complete with ample parking literally on its doorstep.  Having arrived to pick up our tickets, it was explained to us exactly where our parking area was, and how to get to it. Five minutes later I pulled into the parking area and set of to walk the 400 metres to the arena.  As expected the security was evident, however in keeping with the majority of the organisation within Florida, this process was fast and efficient, and not a ticket tout in sight! Entering the forum, we where greeted by a member of staff who politely explained how to find our seats. Other than the very professional staff, the venue gave the initial impression of being clean, well maintained and presented.
Arriving at our seats , I have to admit I was expecting the usual poor quality seats associated with this sort of arena, however I as very wrong, and thanks to the forums official website http://www.sptimesforum.com/, we had been able to book some great seats affording us a clear and unobstructed view of both the stage and George Michael himself. The circular arena provided excellent amenities and the cost of the obligatory drinks and food where very reasonable, as were the price of the official programs. As the performance began, it become apparent that the capacity crowd were going to enjoy the fact that they were going to be able to clearly hear and understand the lyrics of each of the songs, thanks to the great acoustics.
So I suppose you want to know just how much it is, well for a family of four in upper class seats the total cost including parking was $375.80. All in all this is a superb venue which provides very comfortable accommodation and only a short drive from the Orlando area.