Holidays to Florida normally conjure up images of packed theme parks and bustling beaches, but for a growing group of urban explorers, it's the state's abandoned places that are the main attraction. We featured some of Florida's most awesome unfinished and abandoned structures back in 2008 – and now we've found even more. A graffiti-spattered sports stadium, futuristic houses and defunct hotels are just some of the eerie but fascinating structures tucked behind Florida's mass tourism. There's even a secret rocket factory from the 1960s. These stunning images give you a glimpse into some of The Sunshine State's most surreal sights. Some of them are no longer standing, but thankfully they were caught on camera before they faded forever.
1. Miami Marine Stadium
Built in 1963 in Virginia Key, Miami, this seaside stadium was designed for spectators of powerboating, boxing and music concerts. At the time, it cost $2million to build – a fair amount of cash by sixties standards. In the aftermath of 1992′s Hurricane Andrew, it was declared unsafe and shut down. Since then, it's been languishing in the shadow of Miami's glam skyline, collecting a colorful coating of graffiti. In 2011, a proposal was put forward for an inflatable stage that would float in front of the stadium, allowing waterfront concerts. But for now, the stadium remains abandoned, with locals campaigning for its protection and regeneration. In the meantime, it keeps gathering those pesky tags.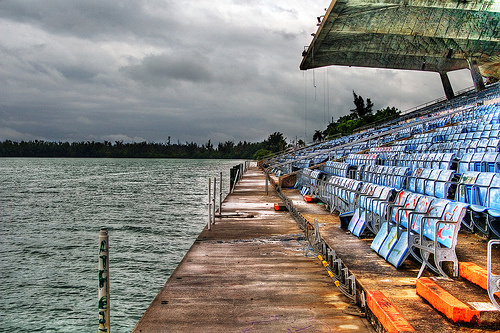 Image Source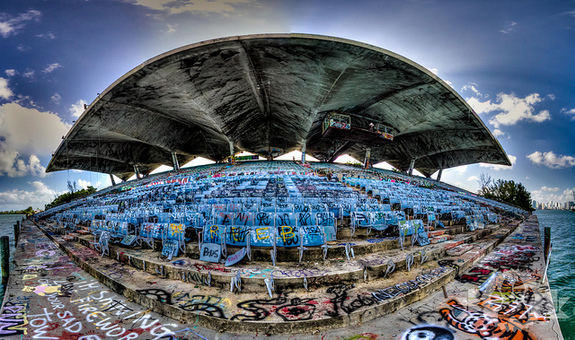 Image Source
2. The Dome Home, Cape Romano
On a perfect beach spot, large, skull-like structures topple into the sea. This unique home was built between 1980 and 1982 by Bob Lee, who wanted to create a self-sustaining residence. Rain water splashed off the concrete domes and into a gutter, for showering and washing dishes, whilst solar panels gleaned power for the air conditioning and hot water heaters. Way ahead of its time, the futuristic house came with a hot tub and lit, wooden walkways leading down to the sea or the lagoon. Sadly, the Dome Home's stunning location ended up contributing to its demise; shifting sands mean that it now stands in the water and will probably eventually be broken up and totally submerged. Until then, it's a favourite hangout for curious tourists and party goers looking for a venue like no other.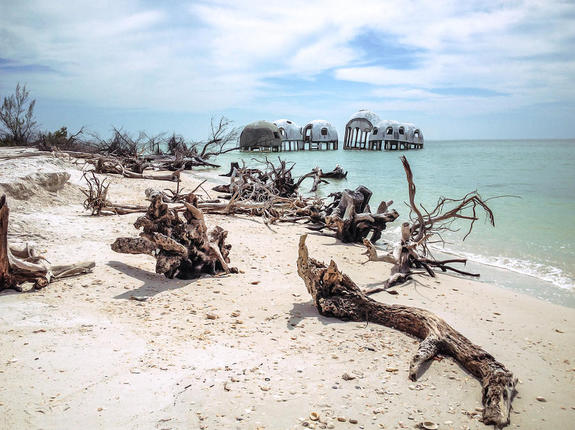 Image Source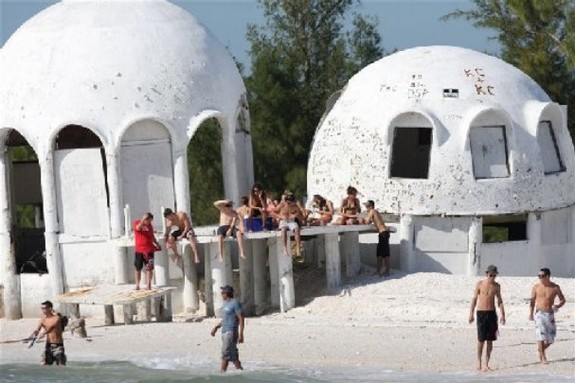 Image Source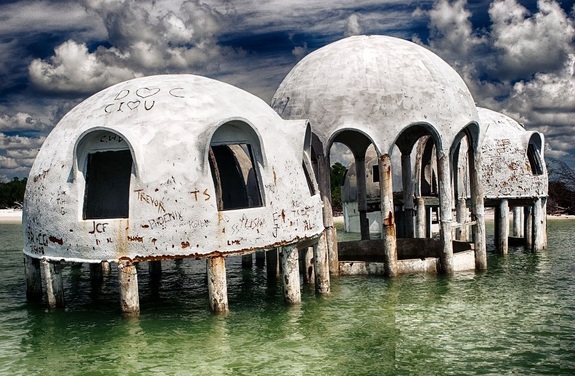 3. The Colony Plaza Hotel, Orlando
Unfortunately, this hotel was razed in 2009, but it made for some pretty amazing photographs when it was still standing. Built in 1968, the rather grand establishment boasted a swimming pool, plush lounge and tennis courts. It also served up as accommodation for Disney staff in the run-up to the opening of Walt Disney World Resort. Despite its pivotal role in Orlando's tourism history, it had to shut down about fifteen years ago, when its fire sprinkler system was declared unusable. As it stood decaying, tropical plants crept, jungle-like, over its grounds. The once pristine pool became a green swamp filled with shopping trolleys and algae and the poolside bar faded to skeletal rust. A sign displaying the pool rules still stood next to the filmy water, one of many eerie reminders of long-faded grandeur.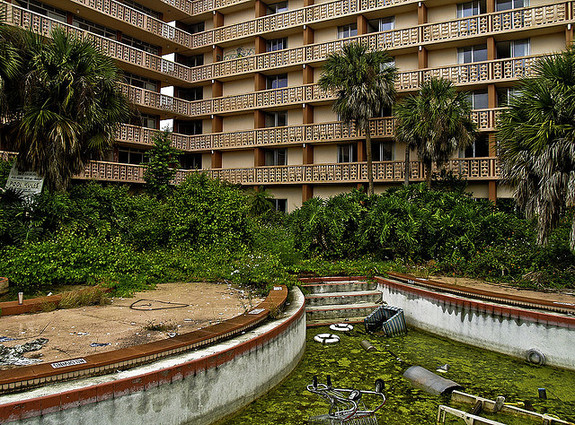 Image Source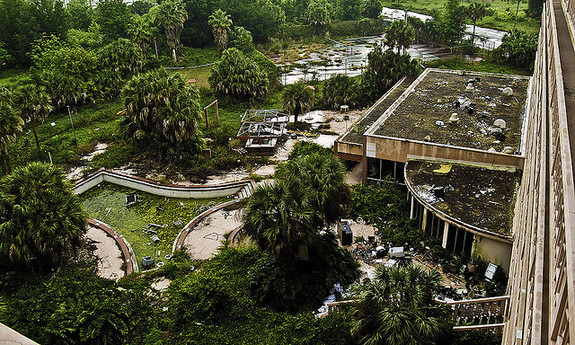 Image Source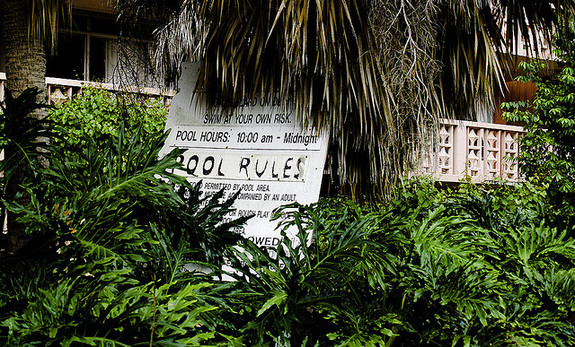 Image Source
4. The UFO House, Homestead
Tucked far off the beaten track, close to the Everglades, this flying saucer-style home was shrouded in mystery and elaborate rumours. There were actually two houses, both with their own kitchens and bathrooms, connected by a walkway. Some thought the hideaway was home to a colony of nudists, while others say it was the lair of a mob boss and a dealer in tigers and lions. Whoever its original residents, it stood empty for many years and, after suffering at the hands of vandals, it was eventually torn down just last month. Few facts remain about the history of this bizarre building, but luckily there are photographs – and the lack of information kind of adds to the air of space-age mystery about the place.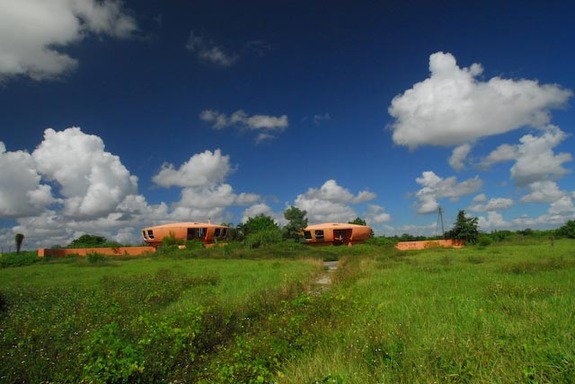 Image Source
Image Source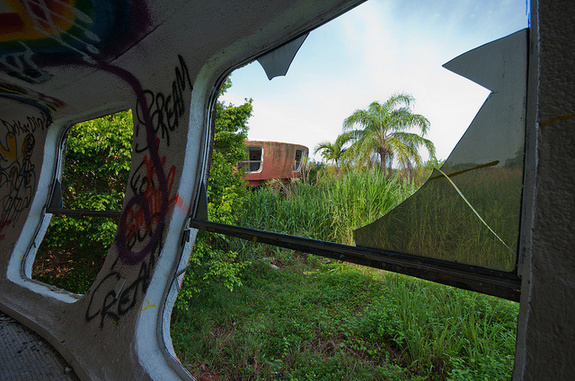 Image Source
5. Splendid China, Citrus Ridge
Opened for ten years between 1993 and 2003, this addition to the Florida theme park scene was (as the name suggests) a homage to China. Costing a whopping $100,000,000 to build, it featured handmade, tenth-scale models of Chinese landmarks, including the Great Wall and the Leshan Buddha. After the park owners fell into financial difficulty, Splendid China finally closed its gates to the public. Whilst its sister park (in actual China) continues to thrive, the Florida version became a creepy wasteland, with plants engulfing the replicas and vandals making their mark. It was eventually demolished in early summer 2013, but not before plenty of intrepid urban explorers had sneaked in and snapped its crumbling beauty…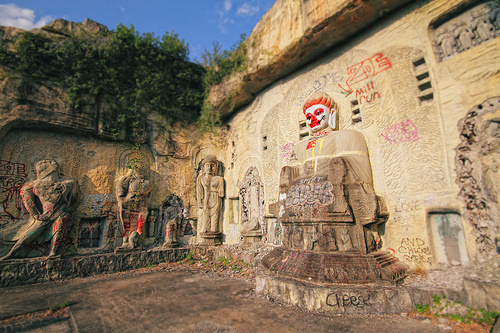 Image Source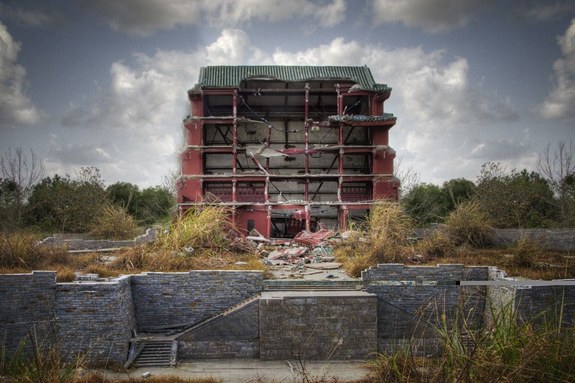 Image Source
Image Source
6. The Aerojet Silo, Homestead
There's something about the Everglades town of Homestead and space. OK, no one really knows what the UFO house was about, but this is the real deal: down a six-mile car-less track, beneath a rusting, corrugated metal shed, in the deepest hole ever dug in Florida, lies the biggest solid fuel space rocket engine ever built. Aerojet Dade won their contract to build a rocket-making facility in Homestead from the US Air Force back in 1963. The moon-bound vehicle was tested three times between 1965 and 1967 and looked set to zoom astronauts into space, but NASA had other ideas: They changed their minds and decided to go with liquid fuel instead. The Aerojet plant was shut down and abandoned in 1969 – but the mega rocket is still tucked beneath its grounds. Intrepid explorers have trekked through the torrid zone and into the complex, lifted the rusty lid on the floor of the hangar and found themselves faced with a ten storey space rocket. Abandoned places don't get more bizarre or brilliant than that, do they?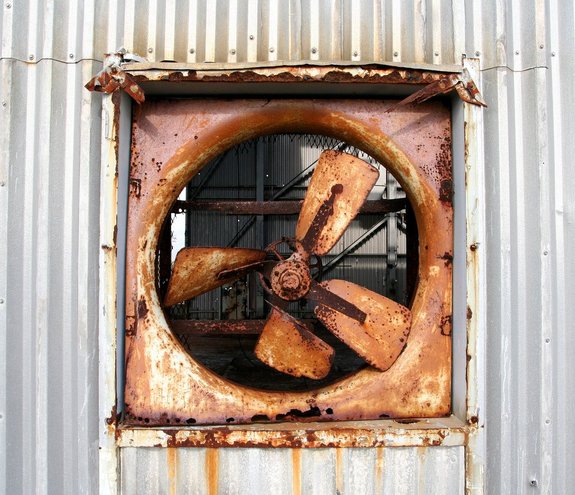 Image Source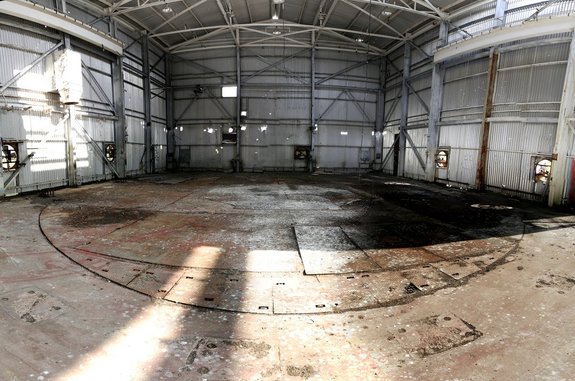 Image Source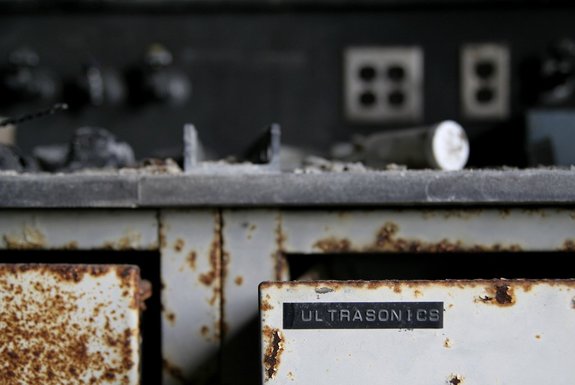 Image Source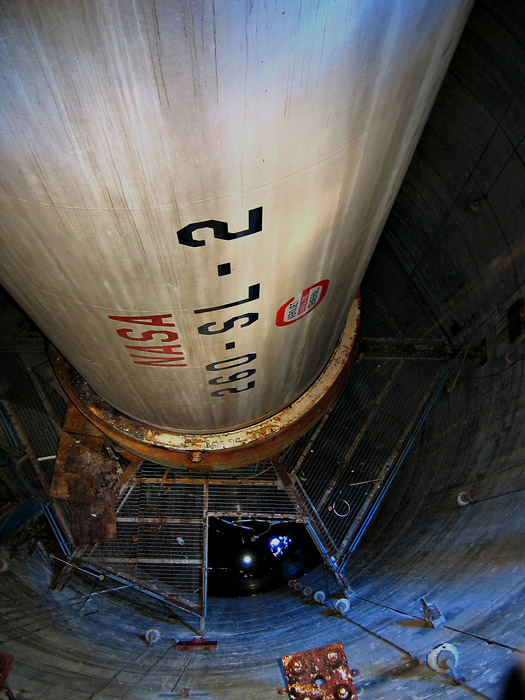 Image Source