On October 1st 1971 Orlando, Florida changed forever, thanks to the dreams of one man. Walt Disney. From the this day on Orlando has become one of the most popular holiday destinations in the world. Initially visitors spent much of thier time in small hotel rooms which offered limited flexibility and often cramped facilities such as the single communal pool. Thanks to the dawn of a new age however visitors now have the choice of much more comfortable surroundings in which to spend thier Florida vacation, thanks to the choice of some fabulous Orlando Villas.
Orlando, Florida has seen a continued growth in the number of international investors like never before. many such investors have seen the potential of owning thier very own place in the sun.
With a huge variety of Orlando Villas available to rent, you are sure to find something which is suitable for your travelling party. These superbly appointed homes come with every utility and facility a visitor could wish for, including large screen televisions, complete with a cable network like no other, fully airconditioned living areas, a games room and of course that all important private swimming pool. Renting an Orlando villa offers you the chance of living like a native, with the added bonus of not having to go to work.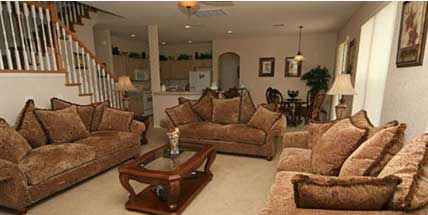 The average size of standard Florida hotel room, is in the region of 200 square feet, by comparison, Orlando villas range from 1100 to over 2500 square feet. Then there is the issue of flexibility. Staying in your very own Orlando villa, means that you make the decisions as to when you get up. There is no maid knocking on your door, nor is there any rush to get to the dining room before the breakfast service ends, and if you fancy a dip before breakfast or before you retire to bed on an evening, there is nothing to stop you, and more importantly there are no others to disturb you.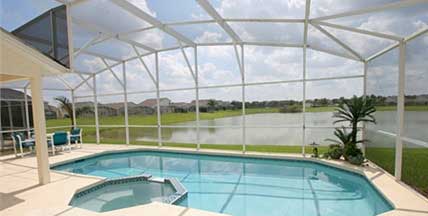 For those days when you just want to relax and top up your tan while the younger members of your party use the pool or the games room complete with full size American pool table, air hockey and other games, you can do so whilst still having every amenity you require within easy reach. There is no fighting for the sunbeds, nor is there the need to walk far for that cooling drink, you simply make your wayto your very own fully stocked kitchen.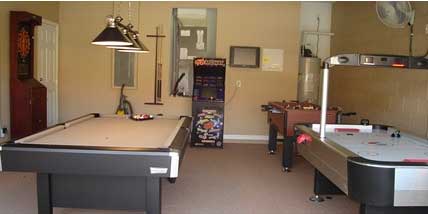 So on to the key question. How much does this luxury cost? The following is an example of costs of renting an Orlando Villa against that of staying at a named hotel (all prices are correct as of 16/06/08 from the respective websites). Do not forget many villa rates are per week/night and not per head. Therefore the larger the group the greater the saving.
Wyndham Orlando Resort 8001 International Drive 14nt stay 01/08/08 – 15/08/08 2 adults & 2 children £1006.96 room only, inc taxes (click here to visit site. Exchange rate of $1.9/£1)
3bed/2bath Creekside Villa located in Kissimmee complete with private pool, and close to all of the attractions 14nt stay 01/08/08 – 15/08/08 2 adults & 2 children, £800 inc taxes. (click here to view property)